Biography - Hello, my name is Logan Rash. My life revolves around music, fitness, art, the outdoors and most importantly Religion. I've learned to play multiple instruments in my life, but the one that I've stuck with for the longest amount of time would be the guitar, I've been playing guitar for 10 years of my life, so music and learning has taken up the majority of my life. Fitness is another part of my life that I am very proud of, I think being fit, and healthy alone is a necessity in life, it's very important to be healthy and live life without health concerns. Art is also a big part of my life, I have been drawing and painting everything from portraits to landscapes, I have been drawing and paining for almost as long as I can remember. I am very fond of the outdoors... I think that technology has taken up most of people time in the world today and people do not balance getting outside and enjoying the real things in life other than being in front of a screen all day. I like to be outside more than inside only because the stuff inside makes people lazy and they only want to watch videos all day. Last but not least, Religion is the biggest part of my life, I am very strong in my Christian faith and I love being a Christian, I play music every week for my church and music with church takes up a big part of my life and I love doing it and worshiping at the same time.So my life in a nut shell, revolves around arts, fitness and nature.
Resume
CCCMC/CCC&TI

4809 Ruby Place | Lenoir, North Carolina 28645 | 828-493-392 or 828-754-2751 | loganr628@students.caldwellschools.com

Objective

Getting a job where I have good hours and can work hard.

Education

Currently a Junior in high school and am an active college student at Caldwell Community College.

Caldwell Career center middle college & Caldwell Community College

Expected to graduate, 2017

· Major: Advanced Technologies

· Minor: Music

· Related course work: Public speaking

Skills & Abilities

Advanced Technologies

· I have been certified in Microsoft word, Excel, and PowerPoint.

· I've taken Web 110, Digital Media and Microsoft A.

Communication

· Took the college class COM 120 and learned a lot about public speaking and communication skills.

Experience


Knightly News Show for CCCMC

· Responsible for recordings, videos to be made and pre-production/production.


I have been certified in Microsoft Word, PowerPoint and Excel. I am an active college and high school student, I also do outside work with my church and help others as much as possible. I have lot's of experience in weight training and personal training as well as arts. I have a decent amount of knowledge in the field of music equipment/production and can usually fix any hardware problems in various guitars. Since I have 9 years of experience in playing music, I do know how to play many instruments and have no problem teaching or helping anyone that wants to or has the will to learn. I can work many different programs in Apple computers. These programs include ones such as: Photoshop, Final Cut Pro, Garage Band, etc. I'm a very hard worker, so if someone tells me to get something done within a certain amount of time, I always make sure that the job gets done.
Contact Information
Cell Phone: 828-493-3962
Home Phone: 828-754-2751
Email - Loganr628@students.caldwellschools.com


Powered by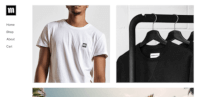 Create your own unique website with customizable templates.